Return of Premium Is a Gimmick
Allen asks what Dave's opinion is on return-of-premium life insurance policies.
Jump-Start Your Goals!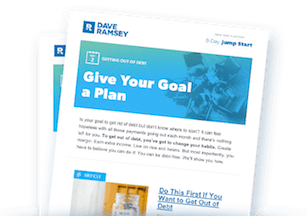 Jump-Start Your Goals!
Get our 8-Day JUMP START series and weekly newsletter that are packed with articles and tools to help you win with money.
Find a Local Expert
Start with a Local Expert
Get trustworthy guidance to help you save money on life's most complicated financial decisions.
Find an ELP
Thank You!
Your 8-Day Jump Start is on its way to !