The money class that will change your life.
Make 2017 the year you take control of your money!
Find a Class Now
Preview Now
Enter your info below and enjoy your free Financial Peace University preview! We'll even throw in exclusive content!
You CAN take control of your money!
No matter where you are with your money, this local nine-week class will teach you to create a budget, pay off debt, spend and save wisely, and so much more!
Learn from financial expert, radio show host and best-selling author Dave Ramsey.
Find a Class Now
We all need a plan for our money. This plan works!
Within the first 90 days of taking Financial Peace University, an average family saves $2,700 and pays off $5,300! More than 4.5 million people have changed their futures with Financial Peace University. You can too!
Find a Class Now
#FinancialPeace
See what people are saying about Financial Peace University.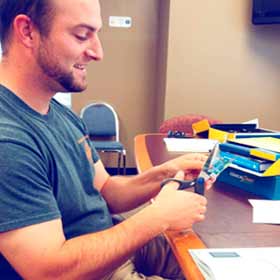 People keep asking how our class is going... I think this sums it up! Over the past 2 weeks Adam and I have cut up all our credit cards!! #FinancialPeace
I completed a financial goal today! I am so excited! I will have freedom in my finances! I will not be handcuffed to debt!
@daveramsey 16k paid off on student loans in 11 months. 24 years old, starting off debt free & on baby step 4! #FinancialPeace
We just completed our #FinancialPeace course! As a group, we paid off $24,200 in debt, we saved $92,800 in cash, and we paid off and destroyed 5 credit cards! All in 9 weeks!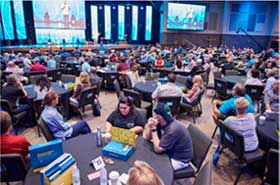 Week one of Financial Peace University! We have groups meeting at all campuses learning to take control of their finances. #FinancialPeace
Day one of @DaveRamsey #FinancialPeace course in the books! Excited for the possibilities and change to come. Thank you!
This is the class that enabled me to graduate from college debt-free! I HIGHLY recommend it to anyone wanting to make headway with their finances.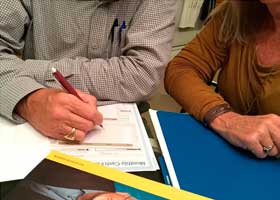 Just finished our Monthly Cash Flow plan for FPU homework & we're still happily married. Looking forward to one day being debt free with the help of #FinancialPeace
Let's find your class!
Which experience would you prefer?
With a Group

Led by a coordinator, group classes meet each week for nine weeks and have the highest level of financial turnaround!

Online Anytime

Viewable from any device, the online class starts immediately and you'll learn at your own pace with access to all nine lessons 24/7!
Help others along the way!
Leading a Financial Peace University class is easy, fun and rewarding! Don't worry, you don't have to be a financial expert! More than 40% of our first-time class leaders experience Financial Peace University for the first time while leading! If you have a heart to help others, this is a great way to do it!