Everyone has a story
Yours is made up of little everyday moments that come together to create lasting memories. Whether you've rewritten your story through Financial Peace University or you're simply dreaming of a new chapter, we want to hear all about it.
Everyone has a story
Whether you've rewritten your story through FPU or you're simply dreaming of a new chapter, we want to hear all about it.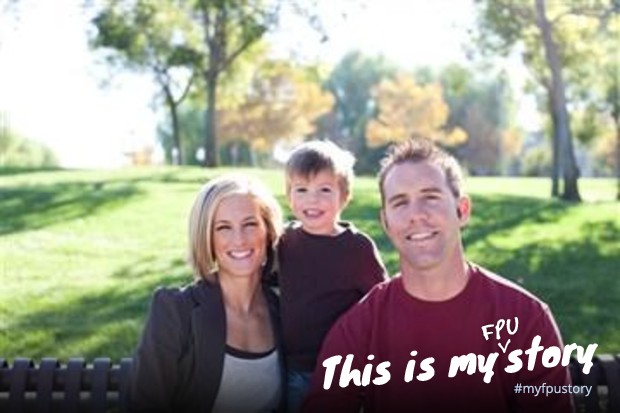 Mindie's story
In September of 2010 one of my cross country athlete's parent's signed up for FPU (they have 6 kids) and they were into week 4 or 5 and I had been sharing our financial burdens with her. Our $300,000 condo was now worth $125,000 and with a baby on the way, we knew we were not going to be able to afford it. We had 2 car payments, student loan debt up the wahozee and a small amount of credit card debt. (Totaling a little over $80,000- not including the upside down condo). Little did we know that God had bigger plans than even we expected. I always thought we had a good hold on our finances. We tithed, budgeted (sort of), but we (My husband and I) were never on the same page. As teachers, only being paid once a month, it went something like this, "Too much month and not enough money." By the time we finally signed up for FPU, we unfortunately already lost our home. But I knew that God could still use our story to help others. We completed the class in December of 2010 and started to apply the concepts (slowly but surely) that we learned in the class. We sold a car (yes, we advertised it by telling everyone, "Dave said to sell the car.") We decided we were not going to take on any more debt. We started paying for food, gas, entertainment and supplies in cash. We were looked at as the "tight wads," by just about everyone because we didn't "go and do" like everyone else was. It was amazing the persecution. :-( In October of 2011, after praying and talking to our home church, we decided God was calling us to bring FPU to Sandals Church. We started facilitating our first class in December 2011. We had over 25 families in the class and began a second class in May 2012. As of right now we have cut our debt in half. We have a little more than $40,000 left (on one income- I stay home with my son). In February of 2012 everyone thought we were crazy when we moved into a home with a room mate! Which God has totally blessed! We only have one student loan left (the $40,000) and we are able to put over $1000 a month towards the debt. We finish up the final week of "round 2" of facilitating and will start up a third class in the fall. We have been able to help other families in our church learn how to have financial peace, and all we are doing is sharing our story. Our lives have been completely changed by FPU. We have a plan, our debt WILL be gone, we will save, invest and give like no one else. Just like God intended. Thank you so much Dave and your crew, God is using you to bless so many families! We are thankful to be a part of it.