Dave Ramsey presents Andres Gutierrez, financial expert for the Hispanic community.
Dave Ramsey has always had a passion for reaching the Hispanic community. The Hispanic population in the U.S. alone includes more than 47 million people. Some of these families are up to their necks in debt, and need help figuring out the basics of money. That's why Dave brought Andres Gutierrez onto his team to spread the message of financial peace to this community.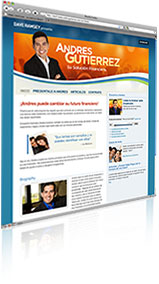 Visit Andres' website for
more information!
Features include:
testimonies
Life Changing Material
"Andres is opening the door that is changing the history of the Hispanic community." Pastor Neil P.
"Finally, a map to get out of debt." Rogelio O.
"This has impacted my family for the present and for the future." Vilma C.
"When I cut my cards, a weight came off." Virginia V.
"I paid off two credit cards and I am feeling great." Nancy C.