It's not too late to secure your future.
You don't have to carry around the weight of debt forever! Learn how to make a budget and a plan for your money with Financial Peace University. Your new future starts now!
Find a Class Now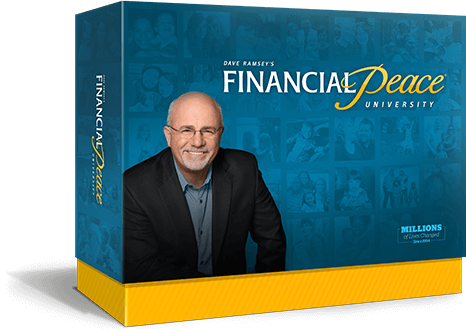 Take control of your money!
Financial Peace University is a local nine-week class that teaches people the seven Baby Steps to dump debt, spend wisely, save for the future, and give generously. It is taught by financial expert, radio host and best-selling author, Dave Ramsey.
Find a Class Now
We all need a plan for our money! This is the plan.
Within the first 90 days of taking Financial Peace University, an average family saves $2,700 and pays off $5,300! This plan works! More than 4.5 million people have changed their futures with Financial Peace University. You can too!
Find a Class Now
Here's what people are saying.

"We owed over $100K in car payments, credit cards, student loans and medical bills. After six years, we are now debt-free!" – Trish

"At 25 years old, I paid off $30K (student loans and car) during the first two years of working professionally and on a TEACHER'S salary ($35K)!" – Britt

"My husband and I are 24 and 26 years old. Today, we finally submitted our last payment. We paid off about $32,000 in just over 11 months!" – Sally
Find a Class Now
Are you ready to change your future?
Now is the time to learn how to handle money the right way. Learn practical ways to dump debt forever and make a plan for your future!
Find a Class Now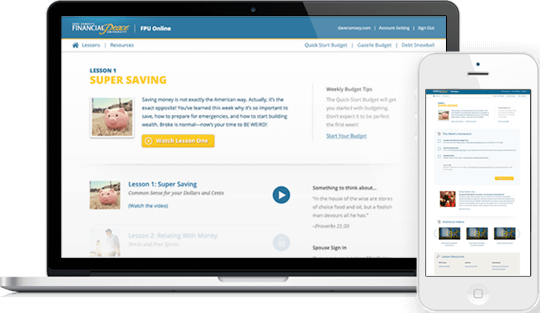 Prefer an online class?
While taking a local class with others is a great way to share, get inspired, and stay encouraged, we understand people's schedules don't always align. We also offer an online home study that you can experience anytime, anywhere from any device or computer.
Take the Class Online
Help others along the way!
Leading a Financial Peace University class is easy, fun and rewarding! Don't worry, you don't have to be a financial expert! More than 40% of our first-time class leaders experience Financial Peace University for the first time while leading! If you have a heart to help others, this is a great way to do it!
Find Out More