Get the Column
Why Dave Says?
Your readers need hope for their lives and their money. You want to give them content they will read and find useful.
The Dave Says column provides this and more!
Dave's down-to-earth advice changes lives and adds even more value to your publication or website. People who apply Dave's financial principles get out of debt, stay out of debt, and build wealth that lasts a lifetime and beyond. This is no ordinary column. If you would like to impact lives in your community, then Dave Says is just for you!
Who Reads Dave Says?
Dave Says has a total, combined print circulation of more than 8 million. The Dave Ramsey Show has more than 8.5 million radio listeners every week — and the numbers are growing! His honesty, expertise and insight into life and money matters makes him America's most trusted source for financial advice.
The Dave Says column appears in numerous top newspapers and websites including The Dallas Morning News, Philly.com, The Oklahoman, The Grand Rapids Press, The Idaho Statesman and The Knoxville News-Sentinel.
How do you carry Dave Says?
To carry the column in your publication, contact us for more information. Contact Us
recommended
Special Offers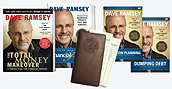 Get all of Dave's Teachings in the Starter Special


Dave's New York Times Bestseller
The Total Money Makeover


100 of the most asked questions from The Dave Ramsey Show
The Money Answer Book
helpful tools