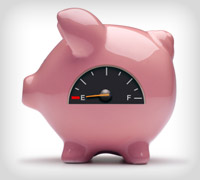 Bankruptcy is a painful, life-changing experience. It hurts.
Too many bankruptcy filers never really recover from their financial distress because they never learn new ways to manage their money.
For the last two decades, Dave Ramsey has been passionate about helping people find financial peace. He'll be the first one to tell you there's hope after bankruptcy. Twenty years ago, Dave and his wife Sharon filed and lost everything.
They were forced to face the difficult reality that they had mismanaged their money and lost control of their lives. "I've never forgotten how painful it was for both of us," Dave says. "I feel that pain to this very day."
As a result of that experience, Dave hates bankruptcy. That's why, when someone asks him about whether or not to file, he'll always try and help them find a better solution.
Chapter 7 bankruptcy, which is total bankruptcy, stays on your credit report for 10 years. Chapter 13 bankruptcy, which is set up like a payment plan, stays on your credit report for seven years. Without a doubt, it's a long process that will follow you around for years, even after it clears off of your credit report.
That said, Dave doesn't tell his listeners to never file for bankruptcy. Each situation, just like each potential filer, is unique. Dave and his team will explore every possible scenario to keep from suggesting bankruptcy, but sometimes it's the only reasonable option.
If your family decides to file bankruptcy, we will be here to help you during the process and give you the tools to restore your hope after your bankruptcy is discharged.
Many bankruptcy cases can be avoided with proper help. We have counselors available to meet with people and work with them to find a better option.
Plus, Total Money Makeover LIVE! and Financial Peace University have helped millions of people find financial peace. Usually, there's another way.
Bottom line: We'll never get angry with someone for filing bankruptcy. It's a difficult, emotional situation. We get that.
Our ultimate goal is to help you find financial peace and change your family tree. Bankruptcy is a setback, sure. But your situation, no matter how bad, is never hopeless.
Let us help.