Teaching Our Children How To Live Debt-Free
from daveramsey.com on 26 Aug 2009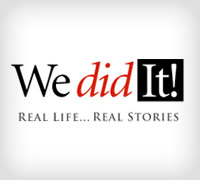 By Pam in Indiana
We had been trying to pay off $85,000 over the last five years and had gotten down to $54,000. We weren't in gazelle mode! Through a miraculous blessing, within the last month we are debt-free other than our house and have our three-to-six month emergency fund fully funded. We are getting ready to set up our IRAs and college funds for our youngest three kids. Our oldest child started college this the fall, and we will pay cash for the amount not covered by scholorships.
It's been a long, hard and frustrating road, but we feel free for the first time in five years! We've had a few major expenses come up recently, and for the first time, we didn't panic because there were funds to cover them.
Our children will never go down the road we have because they've lived it with us. It's been a great teaching tool for them.
Get Dave's resources to help you teach your children about money.
Financial Peace University Online!
Dave's Life-Changing class now Online to fit your busy schedule!
Learn More
Dave's School Curriculum
: Empowering students to make sound financial decisions for life. Available for both Highschool and Homeschool
More Info
See Dave Live!
The largest, most exciting event on personal finance in the nation!
Find Tickets