How to Keep Your Company Jerk-Free
from daveramsey.com on 14 Jun 2010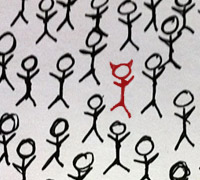 In this bloggable, cell phone world, your brand on the inside is going to be your brand on the outside. If you have a bunch of jerks, your brand is going to be a jerk.
—Tim Sanders, author of The Likeability Factor
More companies are choosing to take their time in filling open positions. Career fields that are extremely popular are ensuring that the right person, complete with the right personality, fills the job. Basically, companies—hopefully yours included—are starting to screen more heavily for jerks.
Don't Shelter Them Completely
A recent Harvard Business Review article stated that people tend to hire individuals who are similar to themselves. This can be very limiting for a company, particularly one that values a collection of different opinions from workers. Although daunting for the interviewee, many companies have opted to allow the entire team, rather than just a boss or manager, to participate in a group interview in order to ensure the candidate will be a good fit.
Kris Thompson, VP of Human Resources at Lindbald Expeditions, a 500-employee adventure cruise company, said, "You can teach people any technical skill, but you can't teach them how to be a kindhearted, generous-minded person with an open spirit."
Several companies are incorporating more hands-on interviewing with potential team members. Depending upon the nature of the business, the interviewee may be asked to join in on a team meeting, project or even business trip. This way, the individual is immersed into the company's culture and both get a taste of each other. After an experience like that, it's typically easier for both the employer and the candidate to know whether or not the individual would be a good fit.
Regardless of your company's hiring procedures, keep in mind that it's better to take your time and find the right person for the job. Quickly filling the position with someone who seems qualified but later proves to be a jerk won't help you or your team.
Learn more from Dave about growing your business the right way at his business conference, EntreLeadership.
Financial Peace University Online!
Dave's Life-Changing class now Online to fit your busy schedule!
Learn More
Dave's School Curriculum
: Empowering students to make sound financial decisions for life. Available for both Highschool and Homeschool
More Info
See Dave Live!
The largest, most exciting event on personal finance in the nation!
Find Tickets