Are You a Nerd or a Free Spirit?
from daveramsey.com on 25 Feb 2010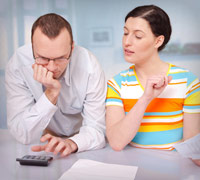 Would you consider yourself a nerd or a free spirit? A spender or a saver? Are you one of those people who gets a thrill out of making a spreadsheet, or do you prefer to spend wherever the wind takes you?
Now is your chance to not only claim the title but to also explain it. Let us know your thoughts by leaving a comment!
So what's it going to be—nerd or free spirit?
Financial Peace University Online!
Dave's Life-Changing class now Online to fit your busy schedule!
Learn More
Dave's School Curriculum
: Empowering students to make sound financial decisions for life. Available for both Highschool and Homeschool
More Info
See Dave Live!
The largest, most exciting event on personal finance in the nation!
Find Tickets